CHV Group Dinner at Il Carino January 8, 2020
Kick off a new decade (!) with a Group Dinner at Il Carino, the upper east side Italian restaurant popular with CHV members.
OMG! It's a new decade. We're kicking it off right with our second of two new Group Dinners at Il Carino. This is the second of two dinners in just a few weeks as we have been away from Il Carino for several months.
There's another reason for this as well. At the request of the restaurant, each dinner must now be limited to just 10 people. So, given their popularity in the past, we will plan to hold them more frequently from now on.
The first dinner will be on December 18, with this second one scheduled for January 8, 2020. To allow more of our members to enjoy this fine restaurant and the company of fellow Carnegie Hill Villagers, we ask that you sign up for only one of these two dinners.
Il Carino is located at 1710 Second Avenue, near the corner of 89th Street, and serves excellent Italian cuisine. You can view the menu at http://www.ilcarinorestaurantnyc.com/main-menu/.
To register for this dinner on January 8, 2020, please click on the green box below.
If you are unable to register online, you can always email [email protected] instead, but please be sure to specify in your email which dinner you wish to attend.
Event Hosts for January 8, 2020
Gilda and Cecil Wray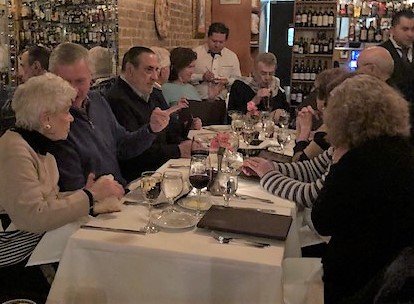 When
January 8th, 2020 6:00 PM through 7:30 PM
Location
1710 Second Avenue, near the corner of 89th Street




New York

,

NY




United States